Personal Biking Memories
This page is just a grab-bag for some pictures of various bike rides. Enjoy!
Here are some rides I'd like to do: Future Bike Rides
Glacier National Park
On Sunday, August 31, 2003, my friend Dan and I biked up to Logan Pass in Glacier National Park. We started at the Saint Mary Visitor Center, elevation 4464 feet. The first ten miles on Going-To-The-Sun Road were next to Saint Mary Lake, and was gently rolling. At the west end of the lake, we were probably 200 feet above the lake, poised for our eight mile, 2000 foot climb to the continental divide. While Dan cruised ahead of me to the top, I took my time in my granny gear to get to Logan Pass, elevation 6680 feet. I wasn't sure I would make it, but I did! The feeling at the top was incredible. I spent about 20 minutes up there enjoying the scenery and my accomplishment. The ride down was pretty fun, as you can imagine. Near the top when there was a sheer cliff next to me, I kept the speed around 30 mph. But after the first couple miles, it went more wooded and I cruised at 40 mph. Compared to my 6-8 mph climbing speed, this was like riding a jet!

Map of the ride to Logan Pass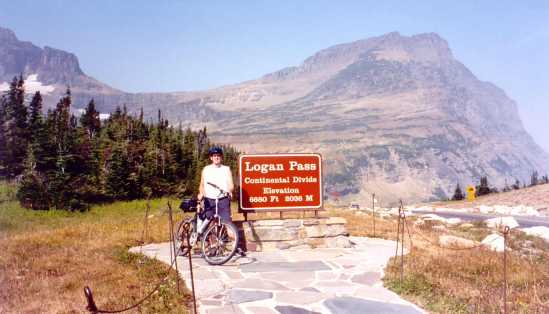 Thrill of a lifetime!
Elroy-Sparta State Trail
On Saturday, July 26, 2003, I rode the Elroy-Sparta and Omaha trails with a group of friends. (Ben, Dan, & Scott) The ride was quite fun, and the tunnels were very interesting.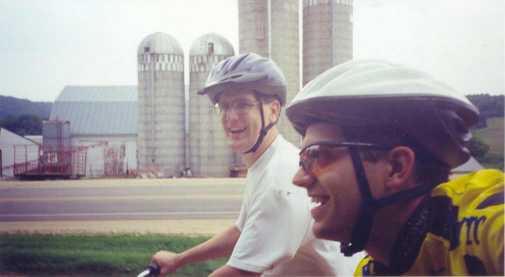 Dan & Craig on the trail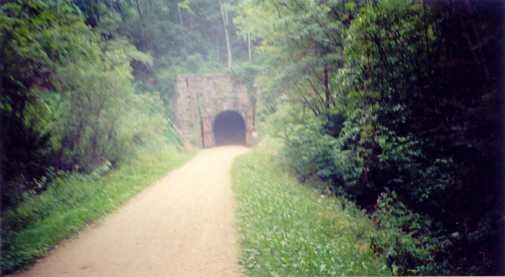 Western Norwalk Tunnel entrance
My Cycling Commute to Work
I occasionally bike to work, and the above is a map of the two routes I choose from. The green dot is my house, while the blue square is work. Normally I ride the same way I drive, which is 6.4 miles, mainly along Cleveland Avenue. (shown in blue) Cleveland Avenue is a moderately travelled two-lane road, but it has nice two foot paved shoulders. The other route I can take utilizes the New Berlin Recreation Trail, (shown in green) which ends about a quarter mile north of work. It does add a little distance to the ride, but it has few cross streets and it is a bit more relaxing.
My Bike
I have a 2002 Trek Navigator 300, shown below. I haven't had any problems with it so far, and I'd recommend Trek to anyone buying a new bike. My permanent accessories are the Planet Bike Protoge 9.0 computer, toe clips, two water bottles, rear blinkie light, cable lock, and a helmet. I also have two bike bags I use, and an LED headlight I can mount when I'll be out to dusk.