Oak Leaf Trail - North Shore Spur
The Oak Leaf Trail North Shore Spur is about 6 miles long. The trail is on what used to be the North Shore interurban railroad line. It branches off the main trail (Drexel Avenue) just east of Howell Avenue. It does go for about a half a mile north of drexel, mainly as a connection to the subdivisions north of Drexel. There is one branch that goes to Marshall Avenue, and one that goes to Manitoba Avenue. To the south, the trail follows in a straight line, except for between Puetz and Ryan Road, where apparently the county was unable to get the rights to run the trail. In this section the trail veers west along Oak Creek, past a school, and then down Shepherd Avenue to Ryan Road. From there you follow Old Ryan Road east to the trail, which is between Nicholson Rd and Pennsylvania Ave. The trail continues south to the county line.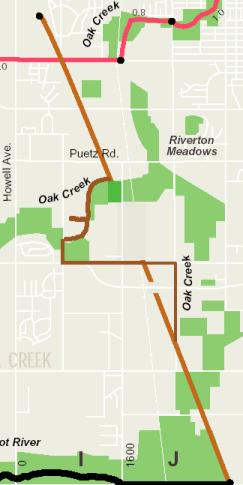 The old railroad grade continues on in Racine County as the Caledonia Conservancy. Unfortunately, bikes are not allowed, as it is for hiking and horses only. But if you take County Line Road east, STH 32 south, and 6 Mile Road east, you can find the MRK trail and ride that to Racine.
One interesting aspect of the trail is the street crossings. This used to be an active rail line, and the tracks had bridges over Drexel, Forest Hill, and Puetz Avenues. But the bridges were removed at some point in the past, so now the trail dives down to meet each of those streets. South of Puetz, the railroad crossed the crossroads at grade.
Photos: (taken 8/2/03)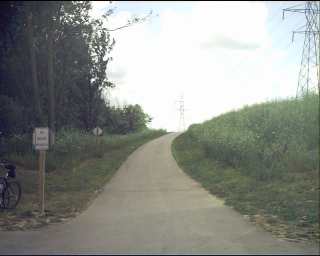 Looking south at Drexel Avenue. Notice the hill up to the old RR grade.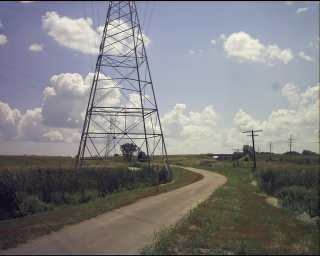 This is looking south from Old Ryan Road to Ryan Road.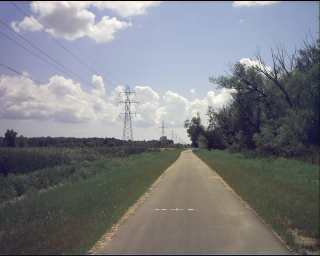 Looking south to Ryan Road.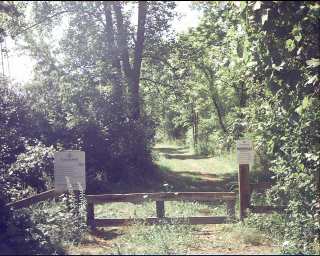 The beginning of the Caledonia Conservancy trail.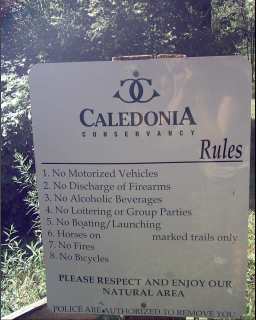 Close up of the sign.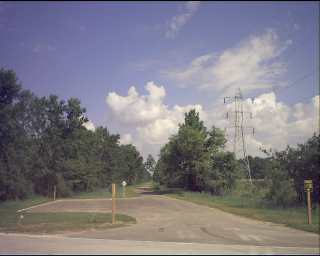 The southern beginning to the trail, at the county line.