Oak Leaf Trail - Lake Loop
The Oak Leaf Trail Lake Loop is a nice side trail that gives a great tour of downtown Milwaukee's lakefront. The total length of the trail is 5.9 miles. It starts just south of the Milwaukee Art Museum and follows the lake shore north through Veterans Park. Then it follows Lincoln Memorial Drive along the shore and past McKinley and Bradford Beaches. Past the beaches, the trail climbs the bluffs, giving a great view. On the way back south, the trail is at the top of the bluffs until it rejoins itself near McKinley Marina. The trailblazer signs on the bluffs are sometimes hard to follow, but if you just keep making your way south along the bluff, you'll find your way back.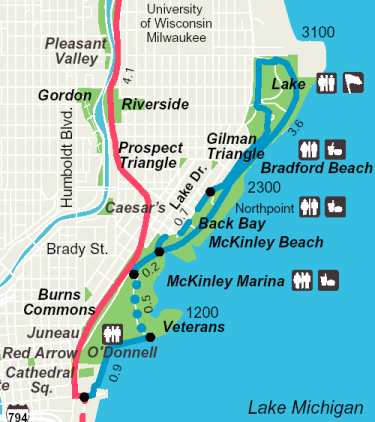 Overall, the Lake Loop is a very relaxing urban ride, with many things to do along the way if you so choose. Stopping to have a snack while looking out on the lake is a great way to take a break on your bike ride.
Photos: (taken 8/23/03)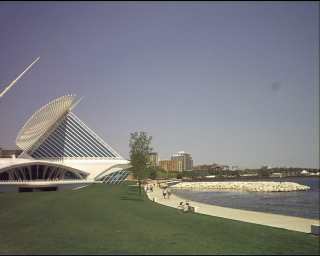 The southern end of the Lake Loop, looking north. What a great start to the trail!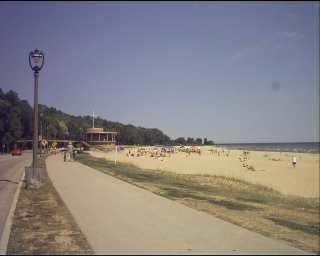 Looking north at Bradford Beach. The road is Lincoln Memorial Drive, and the bluffs are what the trail follows coming back south.