Muskego-Franklin Recreation Trail
Description: The Muskego-Franklin Recreation Trail is an east-west trail mainly through Muskego, with a small north-south branch in Franklin. The trails are operated by the respective cities, in conjuction with WE Energies, who owns the right-of-way. The trails are flat and relatively scenic, except for the power lines.
Map: Muskego-Franklin Recreation Trail (used with permission from Mark Hintz)
Website: Muskego-Franklin Recreation Trail by Mark Hintz. This website is much more detailed about this trail, and includes an history section.
Length: 5 miles (Muskego) & 1.5 miles (Franklin)
Surface: Crushed Limestone
Access Fee: free
Facilities on the Trail: There is a commercial area where the trail crosses Racine Avenue.
Connections: Near the middle of the trail, you can bike 1/4 mile north to connect with a nice off-road path adjacent to Durham/Moorland Roads.
Future Improvements: The trail in Franklin is to be extended south from St. Martins on an old railroad right-of-way that parallels 116th Street and then curves southwest to meet up with the end of the bike trail on the north side of STH 36. The RR ROW is now owned by WE Energies and was the former Milwaukee Electric Railway and Light Company Interurban line from Milwaukee to Burlington. The City of Frankin is using a DNR Stewardship Grant to help finance the trail. The trail will be paved in asphalt and is scheduled to be completed in 2007. It will link up the two Muskego trails and help form a trail over ten miles long.
Thanks to alert reader John Lentz for notifying me and for Jerry Schaefer with the City of Franklin for confirming the information.
Here's an aerial photo of the new trail: Google Maps The trail will start at the intersection of North Cape and Loomis, curve north across Ryan Road, and then parallel 116th Street to St. Martins.
Photos: (taken 7/2/03)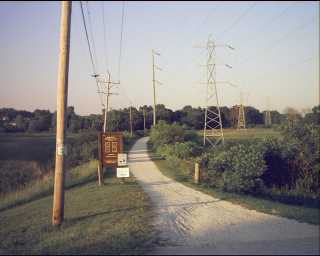 Muskego Recreation Trail looking east at Racine Avenue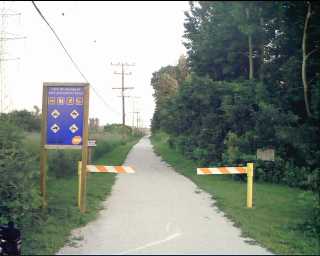 Franklin Trail looking south at Rawson Avenue