Eastern Iowa Road Trip
Scott Kuznicki and I went hunting on November 17, 2001 for bypasses, four-laning projects, and bridges in Iowa. We started in Platteville, WI and took this route:
Southwest Rd - US 151 - IA 100 - Edgewood Rd - Blairs Ferry Rd - I-380 - US 30 - IA 330 - US 65 - IA 5 - IA 28 - G14 - I-35 - side trip on IA 5 - I-35 - US 30 - IA 330 - S75 - D67 - IA 215 - IA 175 - S56 - D25 - IA 14 - US 20 - US 151 - IA 32/NW Arterial - JFK Blvd - 32nd St - US 52 - US 151 - Southwest Rd
Road Notes
When we started out, it was foggier than hell.
US 151 - No work done from Dubuque until just east of Cascade. The bypass starts at Y17 and goes north of the city. The intersection at Y17 is being realigned to stub out east of the existing intersection for safety. There are interchanges at Y13 and IA 136. The bridges over the North Fork Maquoketa River east of IA 136 have steel beams. The bridge over IA 136 has steel beams and fixed abutments, a unique and modern design which has no center pier. The bypass ends just southwest of the climbing lanes south of town. The north end has some concrete down, as does the south end. The part by the river and IA 136 has not been paved yet, and significant base earthwork needs to be done southwest of 136. North of Monticello the grading starts again, and the bypass veers east of the city. It appears there will be an at-grade intersection with Campfire Road (shown as a dead end on the state map), and the grading ends southwest of there. No evidence of grading or bridges over the river. There is an interchange at IA 38. Concrete beams, 3-span with lots of room for IA 38 expansion underneath. The bypass rejoins the existing alignment southwest of a new X44 interchange. The grading continues along 151 until Langworthy, where it is realigned about a thousand feet east around some buildings and some old, decrepit bridges, and then rejoins the alignment. The new lanes are graded to Anamosa. About three miles north of there the new lanes (northbound) are paved, painted, and ready to be opened. There is an interchange at IA 64 and IA 1. At both those interchanges, the traffic now goes down the southbound exit ramp to a 4 way stop, and then back up the southbound entrance ramp. The section ready to be opened extends to the existing four-lane just north of Springville. Special note - existing lanes are being reused in many places as new lanes for one of the alignments (either south or north). It looks as though some may be resurfaced (judging from the temporary asphalt ramps at median crossovers), but many existing sections still have un-resurfaced lanes.
Mmmmm, Krispy Kreme donuts - the Orginial Glazed is one sweet donut! (This was our first stop at a Krispy Kreme outlet.)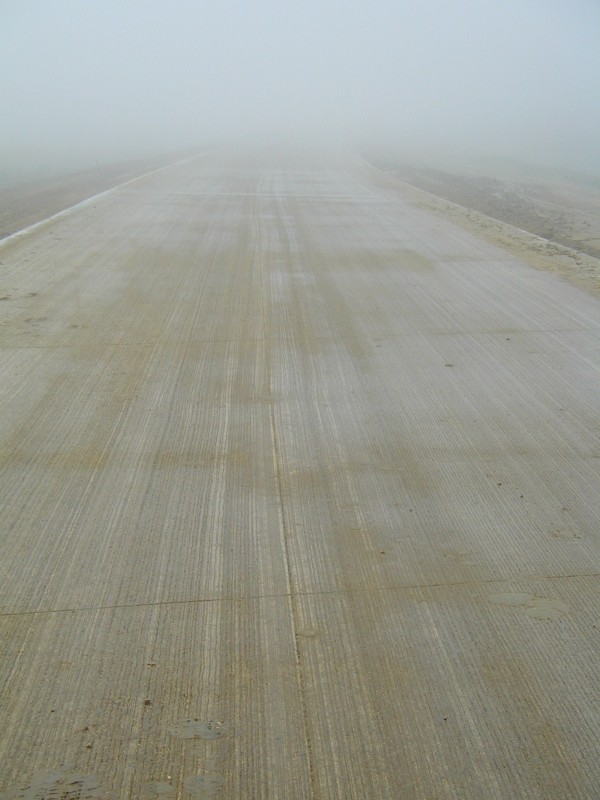 New concrete roadway north of Cascade; grading north of Maquoketa River crossing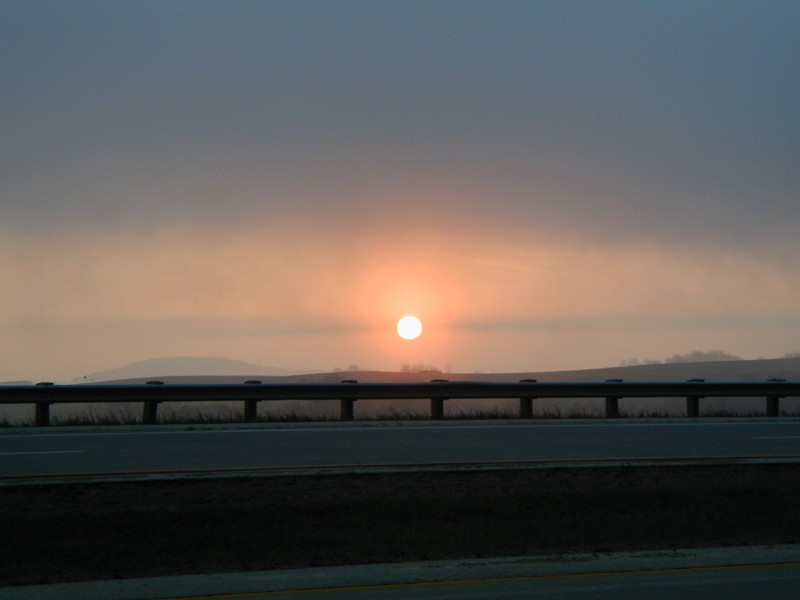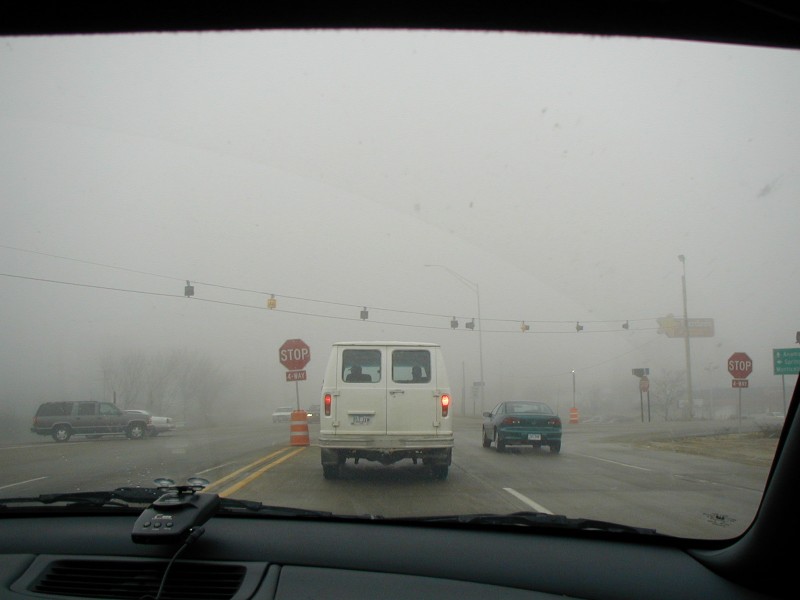 Sunrise, between Dickeyville and Dubuque on US 151; Marion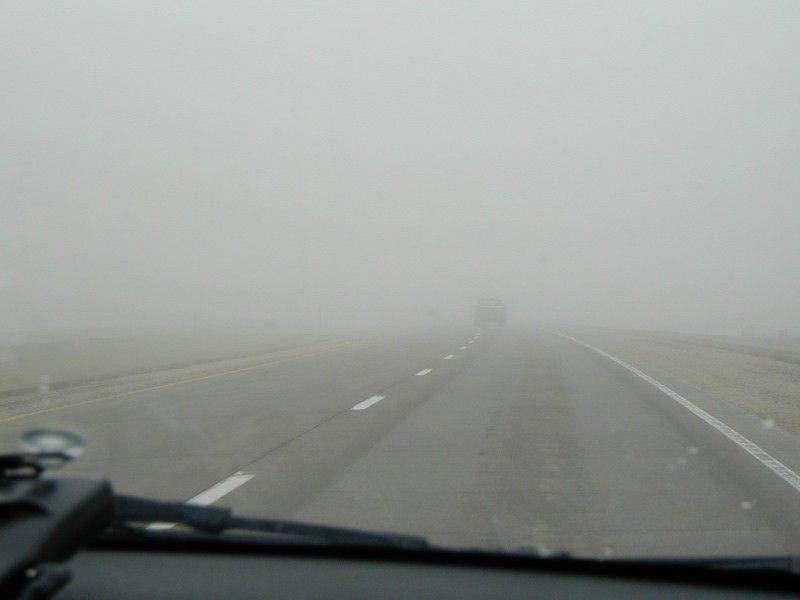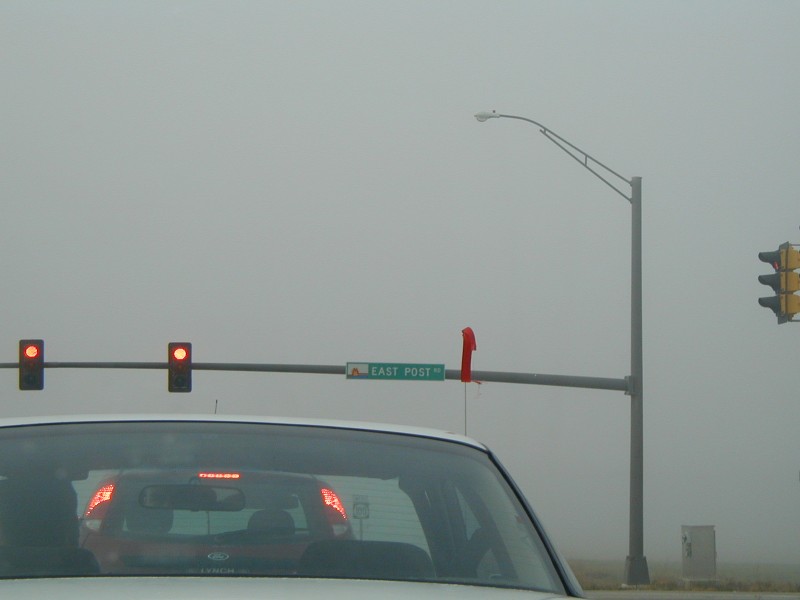 Marion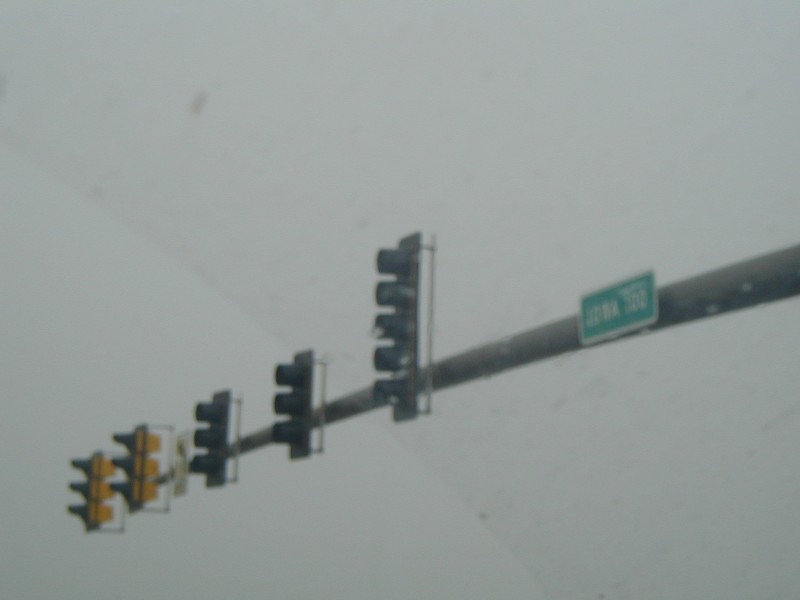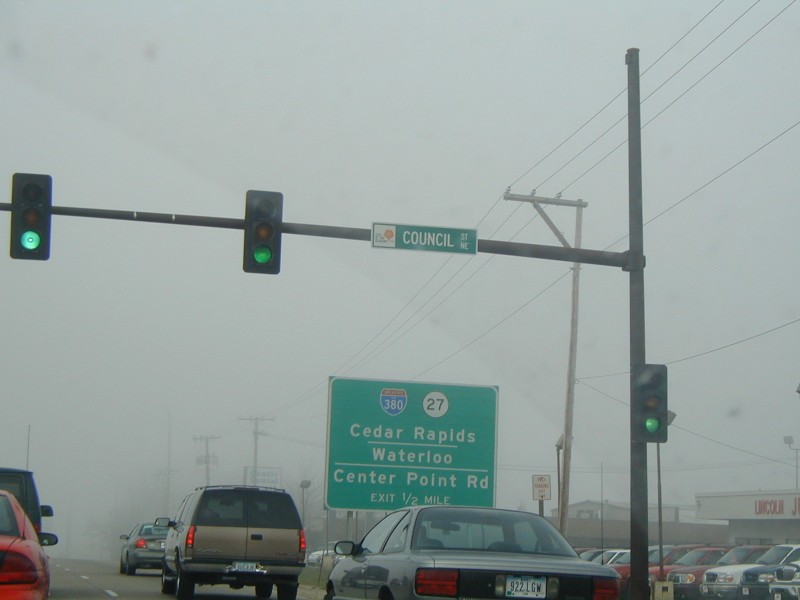 Marion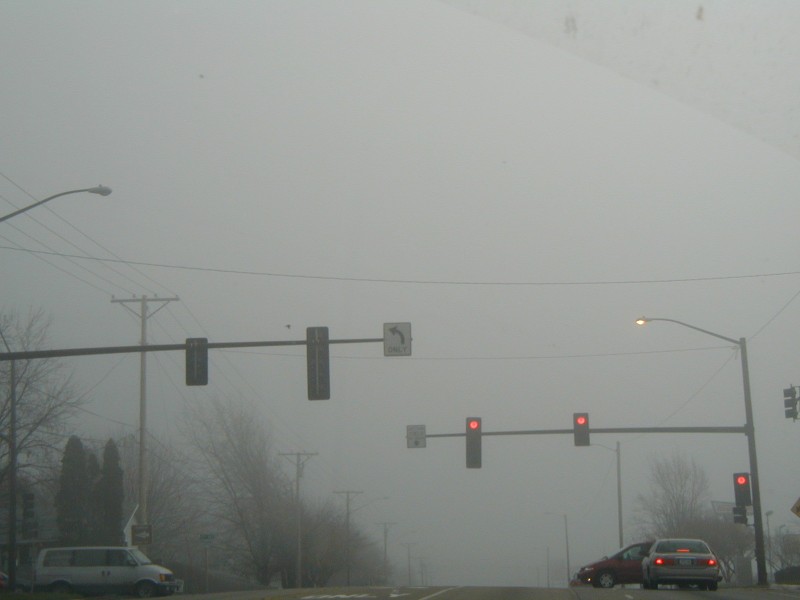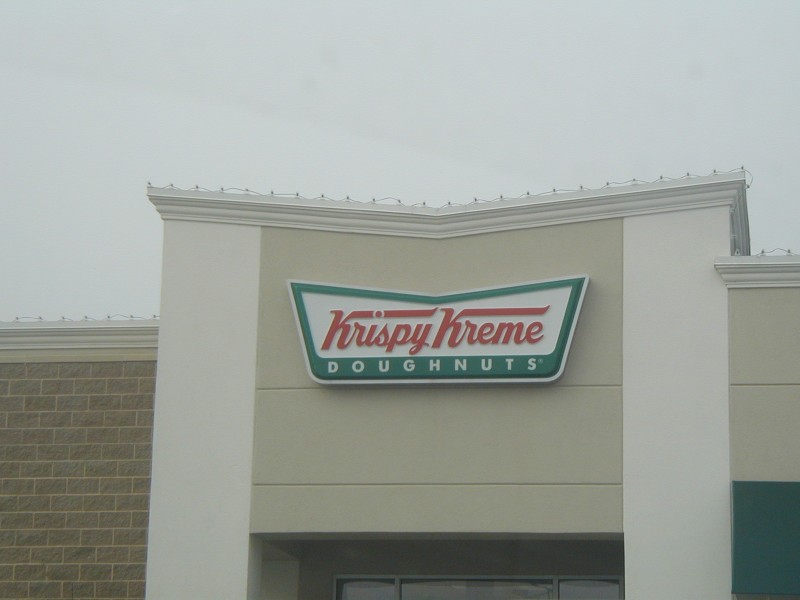 Marion; Krispy Kreme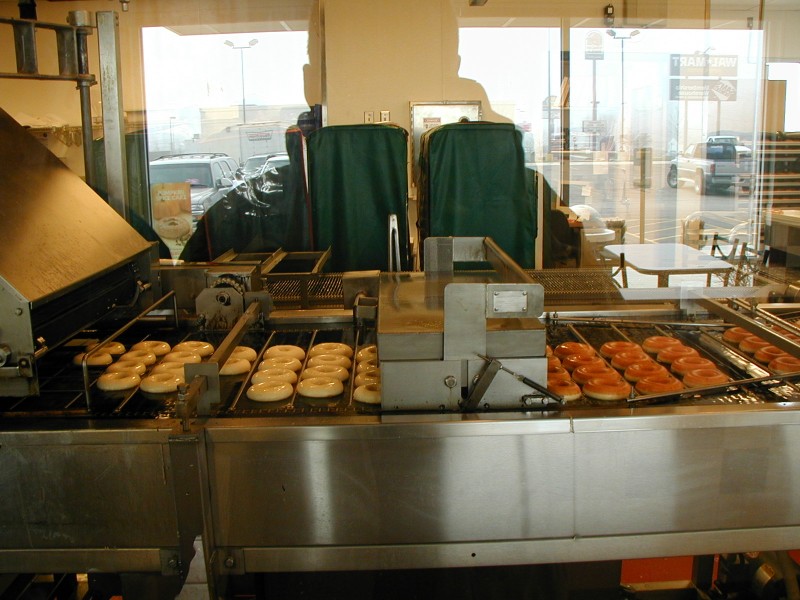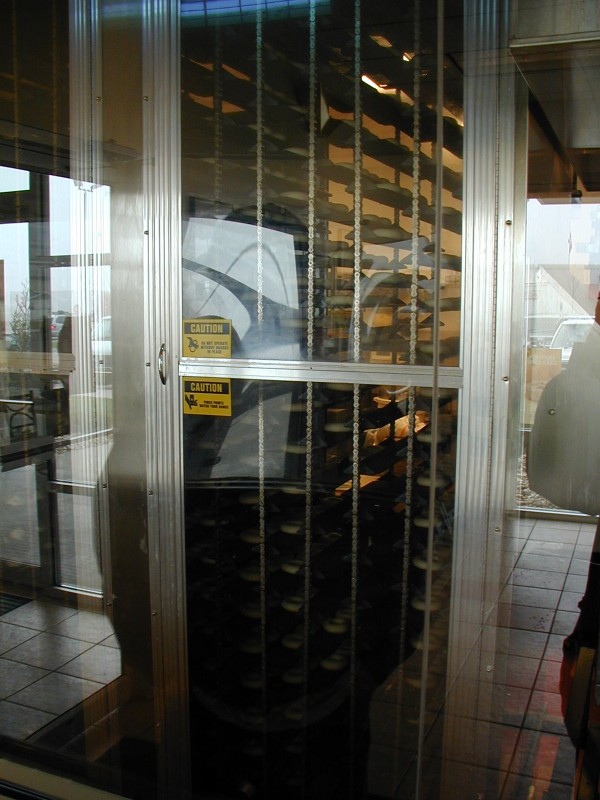 Krispy Kreme
Mmmmm, Krispy Kreme donuts - the Orginial Glazed is one sweet donut!
US 30 (Cedar Rapids to Marshalltown) - Grading done from Le Grand west to the to existing 4 lane section, with some pavement.
IA 330 (South of US 30) - Bridge over US 30 being graded. No apparent work to upgrade this interchange from a diamond. Grading work being done along IA 330 25 miles south to existing 4 lane section at US 65 and IA 117. No interchanges being built. There is an off-existing-alignment portion is around a Polk County Conservation Area, for maybe a mile, a few miles north of the existing four lanes. Very unusual, as it looks like the new alignment causes more environmental disruption than adding the southbound roadway straight through would have done. The intersection of US 65 / IA 330 / IA 117 is just that, an intersection, and a very dangerous one at that (at least right now, before upgrading). No interchange construction is apparent and it looks like it will just be an intersection when they get done.
IA 5 - Open to IA 28/Norwalk exit on east end, to 50th St on west end. There is only an approximately five mile gap left, and it is being graded. The IA 5 / I-35 interchange is half done, with the connections for N-E and W-S done. The W-S bridge is at the third level. The future bridge for S-E is at the second level, and the piers are almost done.
I-35/I-80 - Their I-235 northeast interchange definitely needs to be reconstructed. Piers are spalling badly (like almost every bridge in northeast Illinois) and it has horrible left exits (like almost every major interchange in Milwuakee). It's quite similar to the I-57/I-80 interchange in Illinois - but not suitable for today's traffic patterns and volumes.
US 30 (Ames to Marshalltown) - No construction. ROW fenced along the entire two-lane portion, mostly on the north side. Looks to be wide enough for the standard four-lane cross section that Iowa uses. Question: Is Iowa's median width for new four lanes set? They look nice and wide, around 90 feet, up to 120 feet in some places.
IA 330 (North of US 30) - Grading for 4 lanes north of US 30 is less than a mile. South of Albion and the curves by the railroad tracks, a new bridge over a river is being built. It is being built directly east of the existing alignment. The new roadway on either side of the bridge is very interesting. When construction is done, cars will curve to the east to go over the bridge, and back to the west to the old alignment. But there are 2 lane ghost lanes being built, so when this section is converted to 4 lanes, this will be the northbound bridge over the river. All the new pavement, including the slip lanes (crossovers), are concrete. This leads us to think that the extra lanes won't be built for a long time, or else why not build the curves asphalt. But, Iowa loves concrete. Long live concrete!!
US 20 - We got to the Iowa river bridge about a half hour before sunset. We parked near the field offices, on the east side of the river. A giant sign advises "No Tresspassing" and "Surveillance Camera In Use." But, no one kicked us off the site, and we must have encountered at least six people. The 4 huge piers and the abutments are complete. The south girders are up. They are 12-foot high I-beams. Each span is 300 feet, for a total span of 1500 feet. It looks like the bridge is 200-300 feet above the river. (Can you believe there are hills in Iowa? It's NOT flat.) From what we could see from the bridge site, grading is being done in both directions from the bridge. East of the site, the interchange at S56 is being built along with bridges over an abandoned rail line. They look like 20-foot clearance (standard for existing rail lines). Anyone know why this is being done? At IA 14 where the freeway ends west of Waterloo, the bridges are up (over IA 14). It was dark, so we couldn't tell if there was grading done west of there. The logical guess is that grading is being done over the entire gap, as it has to be all opened at once.
IA 32 - There's grading going on the the north end of the Northwest Arterial in Dubuque, north of JFK/32nd Street. I had forgotten how messed up Dubuque was. At least I know my way around: I used to drive around there in fear of being lost for several days. But, that's half the fun. Throw away the maps - you'll be doing yourself a favor (if you like roads and driving, that is).
Special Notes
Iowa rules! Before long, they will have three east-west four-lane highways within 60 miles of each other - from I-35 to I-380. Of course, I-80 and US 20 also extend east to Illinois, leaving them with an impressive east-west roadway network. The power of the grid system is evident now . . .
Bypass!! Every state should take steps to preserve the character, economic viability, and safety of their towns by building bypasses of all towns along roads that carry any significant through traffic. Between 5,000 and 10,000 ADT seems like a reasonable number for a two-lane road to get a bypass of a city - built as two-lanes now, expandable to four lanes in the future, like US 20 around Freeport. Do it now -with access control - and the bypass with be close to the town. With proper zoning, a thriving industrial park can separate the bypass from residential areas, provide easy truck access, and give businesses essential to travelers a convenient place to locate that still allows residents to utilize them efficiently.
---
---
Craig R. Holl / craigholl@hotmail.com / http://www.midwestroads.com/craigholl / http://www.midwestroads.com/craigholl/photo/iowa02/iowa01.html / &copy 1996-2004 / Revised February 3, 2003